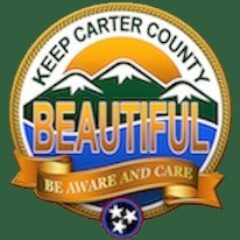 Please help Keep Carter County Beautiful by supporting our efforts.
Clicking on the donate button will redirect you to a secure PayPal site where you can donate through PayPal or Credit Card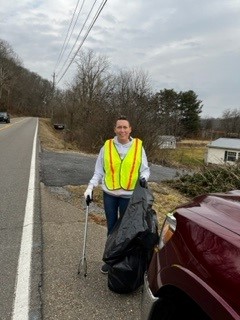 When you pick up trash/litter, please take a minute and tell us how much and where. We would like to include your efforts in our reporting to Keep America Beautiful. Click on the button below and you will be redirected to the reporting page:
Carter County Stormwater Management Spring Stream Cleanup at Blue Hole Falls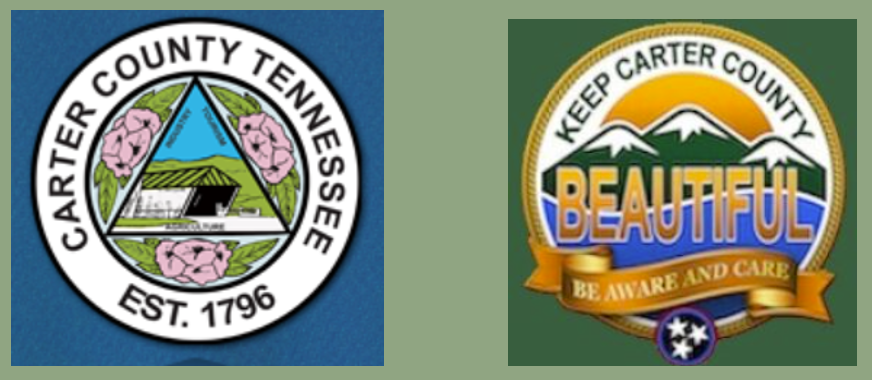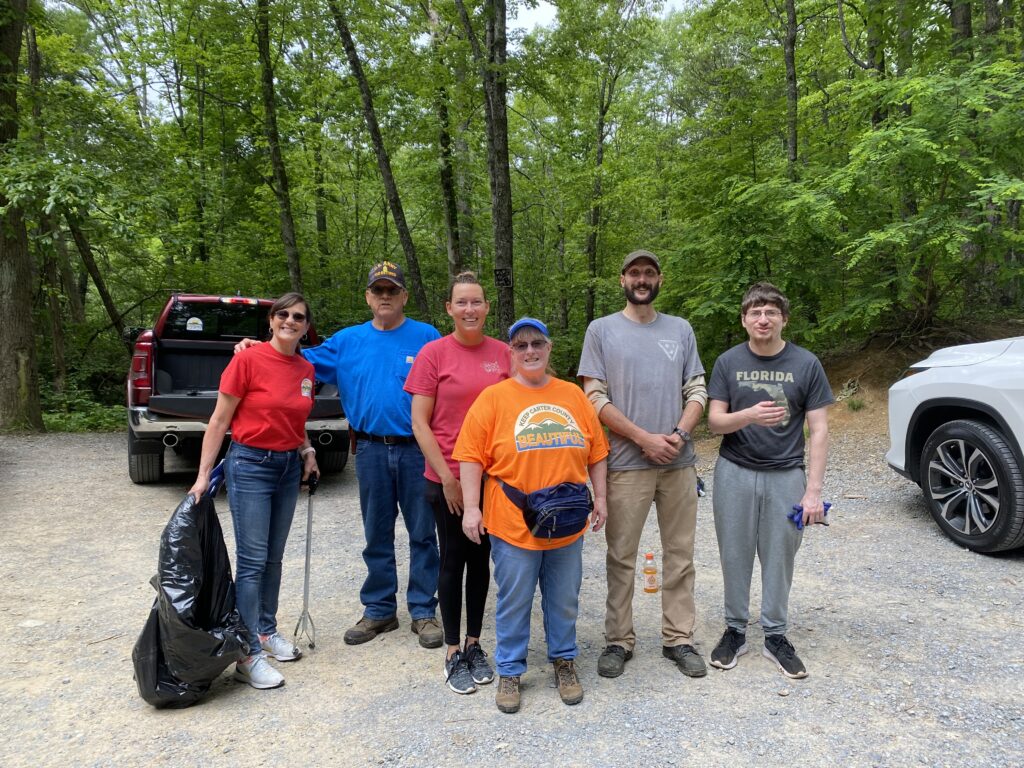 Thank you to the Carter County Stormwater Management for a great cleanup event. Will Miller, Stormwater Management Coordinator, organized and lead this effort. Keep Carter County Beautiful was happy to partner with them on this cleanup. I not only got to see Blue Hole Falls for the first time since moving here in 2018, but I also got to help keep it clean for residents and visitors.
I met and talked to two couples from out of town and they were impressed that we were volunteering to keep our county clean and that our County Mayor was participating. Thank you, Mayor Woodby for supporting this event. It is great to have the support of our Community Leaders. Please keep an eye out for future events sponsored by the Stormwater Management team.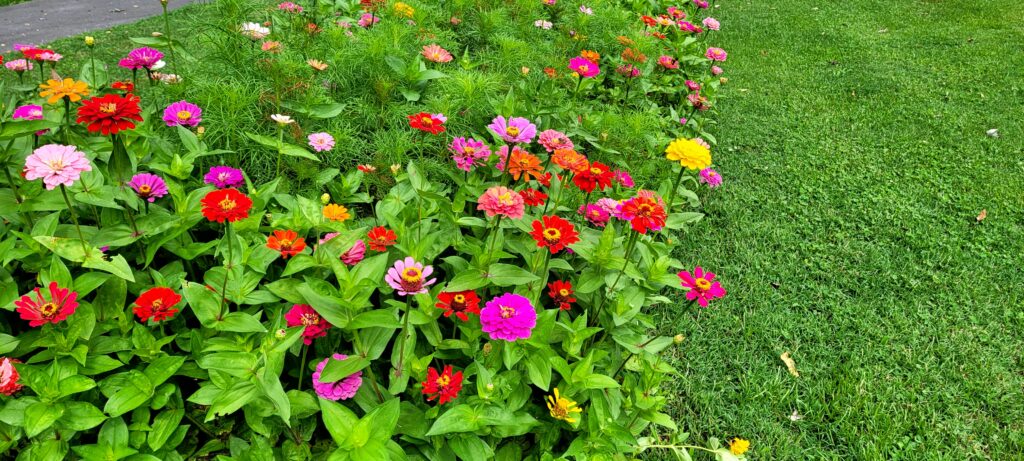 Keep Carter County Beautiful and Elizabethton Parks and Recreation plant wildflowers throughout Elizabethton
Thank you Mike Mains and Elizabethton Parks and Recreation. Mike's crew created 11 wildflower plots along the Tweetsie and Linear Trails in Elizabethton. The plots are at the Cooke Family Park, the Linear Trail at North Riverside Drive, the Tweetsie Trail behind Harvest Baptist Church, the Tweetsie Trail at East Elk Street, the Dixon Street Park, and the Linear Trail at the 430 block of Race Street. On May 9th. and 11th., Keep Carter County Beautiful planted several pounds of wildflowers seeds including sunflowers, zinnias, and cosmos. At the Dixon Street Park across from Sycamore Shoals, 62,400 seeds were planted. The plots will look spectacular once they start blooming. The wildflowers will provide food and refuge for bees, butterflies and hummingbirds. What a great way to add beauty to our county. I hope the flowers are enjoyed by visitors and residents alike. These wildflower plots would not be possible without the support of the City of Elizabethton and Carter County. A special thank you to KCCB Board Member Ed Basconi for his vision and hard work making this project a reality.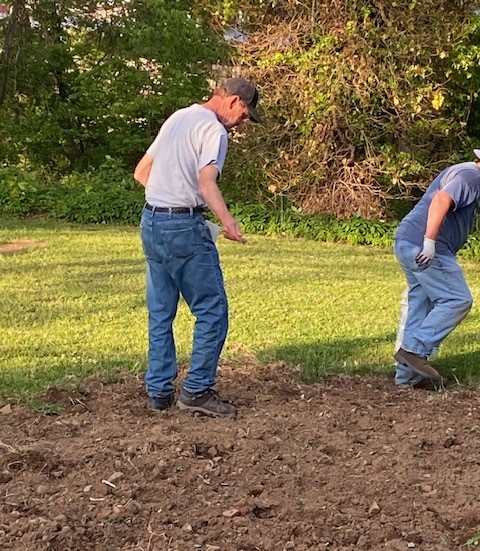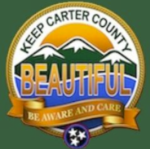 Keep Carter County Beautiful and Elizabethton Parks and Recreation begin erecting Wayfinding signs on the Tweetsie Trail
Adding Wayfinding signs to the Tweetsie Trail allows visitors and residents to locate some of Carter County's many great attractions and recreational opportunities. I would like to say thank you to Mike Mains at Parks and Recreation for supplying the Bobcat, auger and operator. Digging holes along the Tweetsie Trail and Carter County waterways is challenging, but equipment like that makes the process easier. Thank you to Mike Priest for operating the Bobcat, digging the holes and helping install the signs. Thank you to Councilman Mike Simerly, KCCB Board Members, Lisa Vezzosi and Ed Jordan for all the support and labor for installing the signs. Special thanks to KCCB Board Member Ross Garland who planned, managed and delivered on this great resource for our county. Ross also provides much of the physical labor installing the signs. The map signs were designed by Seth Hice at the Elizabethton / Carter County Chamber of Commerce. More signs are on the way, and I hope residents and visitors find them helpful.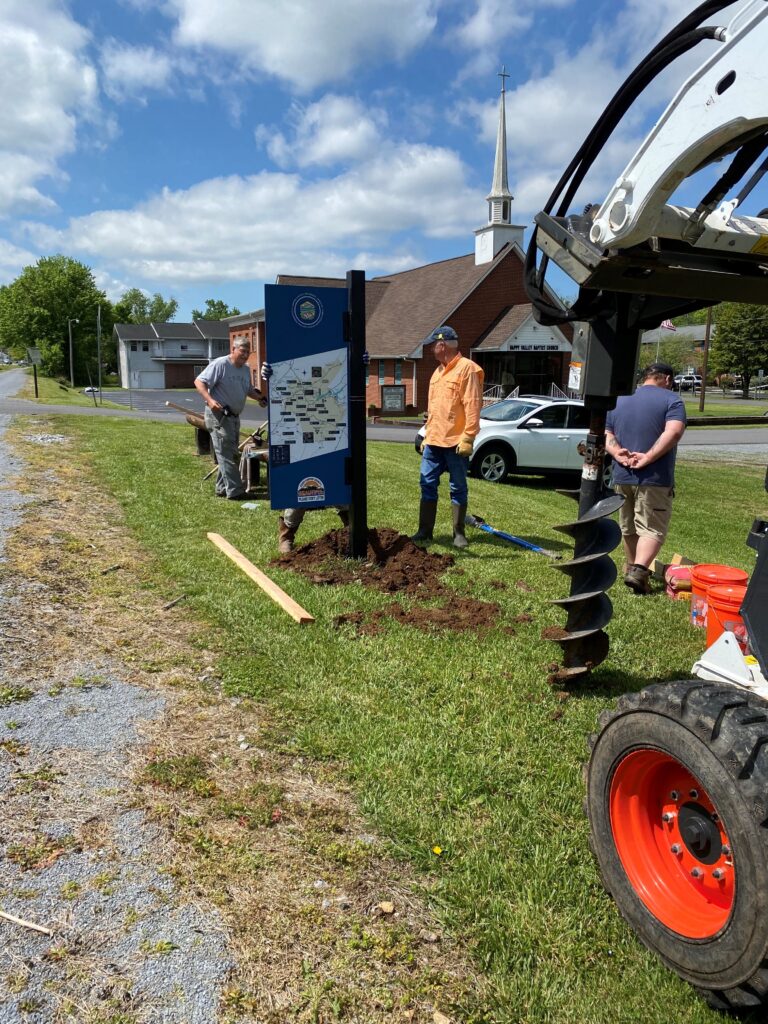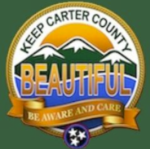 Keep Carter County Beautiful and Keep America Beautiful partnered for the Great American Cleanup of the Tweetsie Trail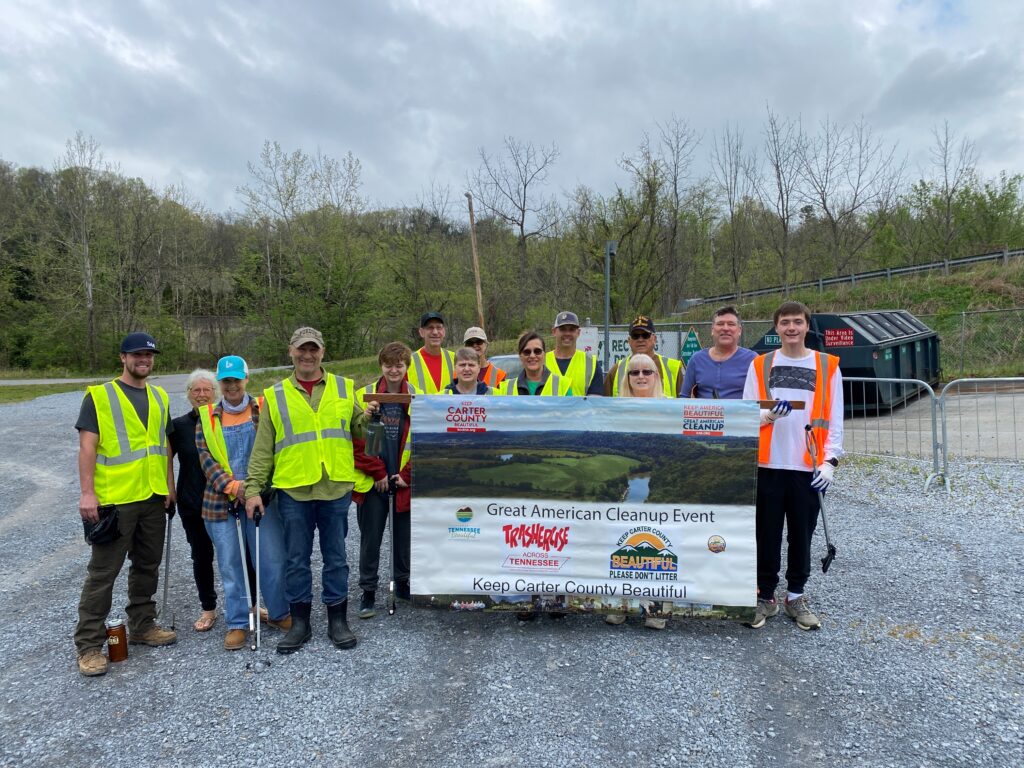 15 volunteers took to the Tweetsie Trail to pick up litter. We collected 1200 lbs. of trash, two tires, and several large pieces of miscellaneous trash. Many of the trail users expressed their appreciation for our efforts in keeping the Tweetsie Trail beautiful and enjoyable. The Keep Carter County Beautiful Board thanks all of the volunteers who participate in our events.
A special thank you to the young adults who volunteered. It was great seeing the next generation take pride in their community. Also, a special thank you to our Roan Mountain volunteers.
Thank you to Danny Hilbert and the Elizabethton Streets and Sanitation department for collecting and disposing of the trash. It is a great relief to know that we do not have to transport the trash to the dump. Danny's worker came down the trail at 2:00 PM just as we were finishing, and the trail was clean as a whistle.
Thank you to Keep America Beautiful for the resources provided for this cleanup.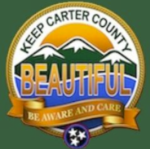 Elizabethton High School designs and constructs wildflower seed packets for Keep Carter County Beautiful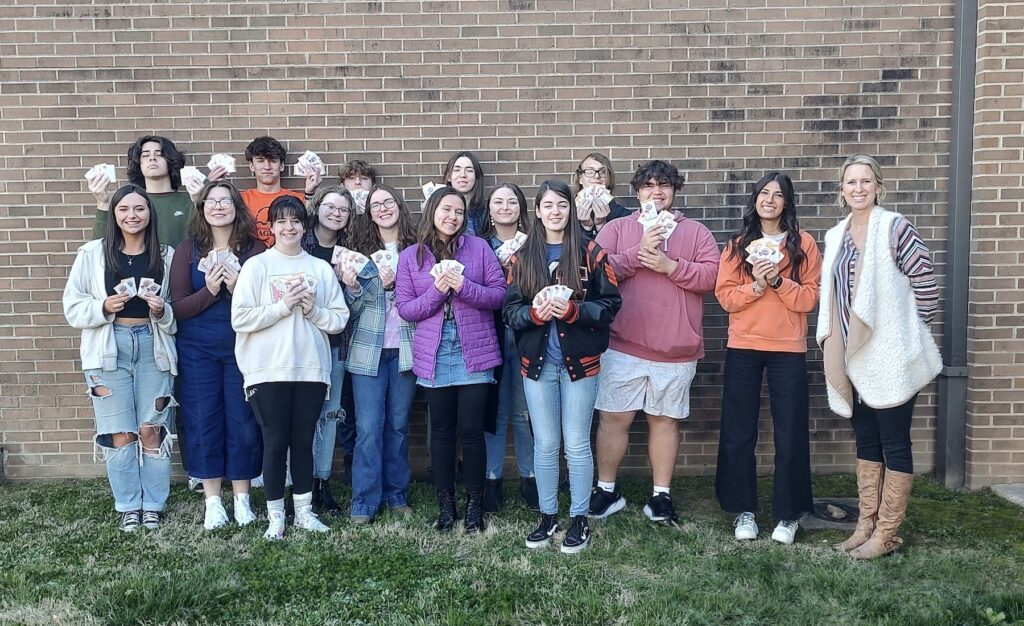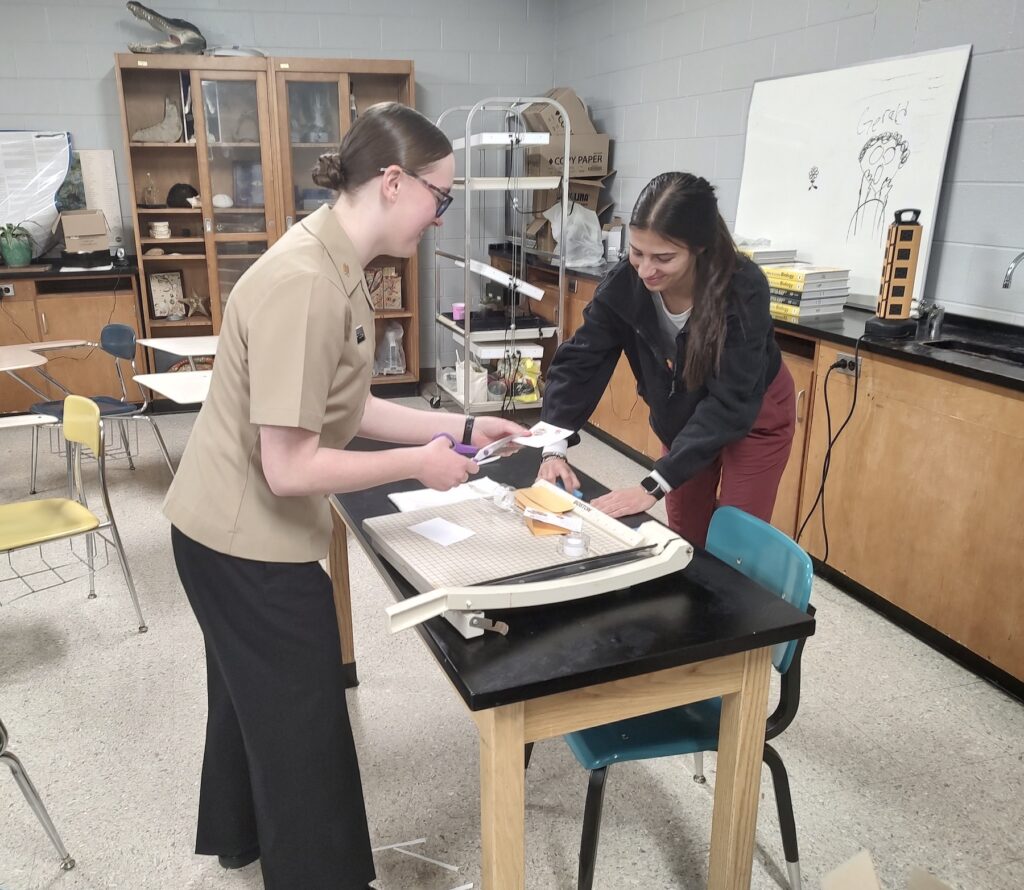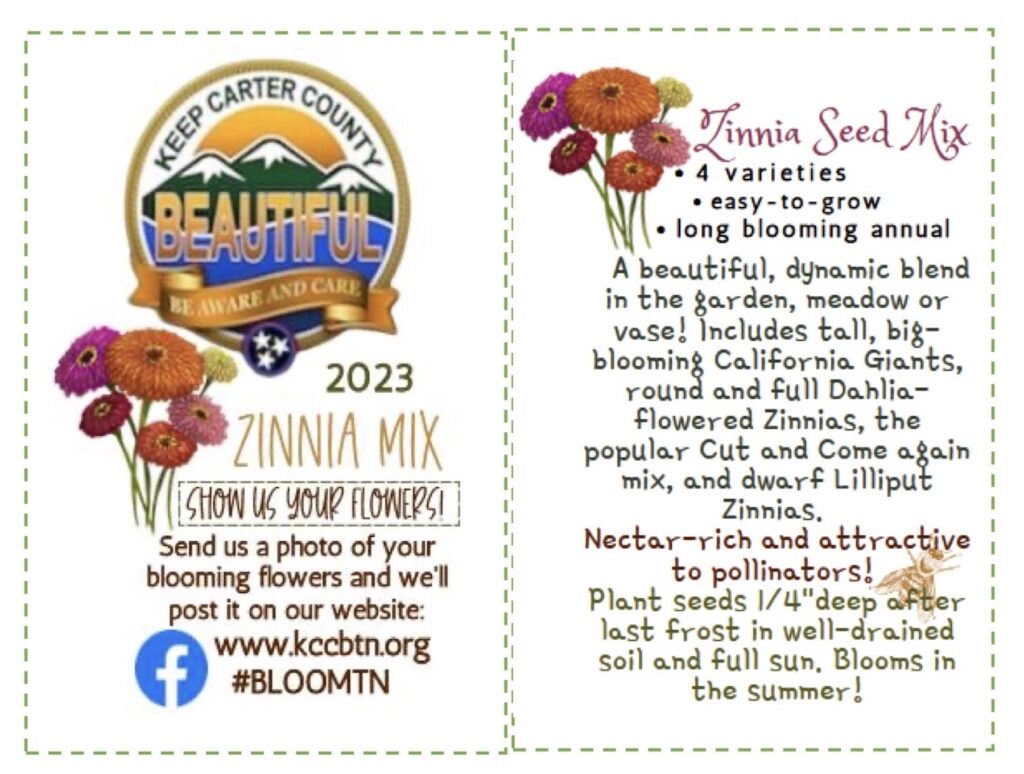 Keep Carter County Beautiful wants to distribute flower seeds in the community, so they turned to Elizabethton High School students for help. Could students design labels and package seeds for the group to give away at public events? Elizabethton instructor Jessica Hayes, who teaches an environmental science course, was quick to say "yes."
"The first question from students was, 'Will we get to plant some?'" Hayes said. The fun, colorful seed labels tell gardeners how and when to plant sunflowers and zinnias, how big the plants will get, and how these easy-to-grow plants attract pollinators. It includes an invitation for gardeners to submit their flower photos to the KCCB website.
Junior Makenzie Oliver designed the labels, and sophomore Loren Watson created drawings for Yellow Pygmy sunflowers – which grow 18 to 22 inches high, and a mix of four different zinnias. Both students said they were excited to be part of a community project. Oliver worked under a tight deadline, creating several label designs for her teacher's review. Because she is interested in studying architecture, designing an appealing product came naturally to her. Watson said she wanted flowers to be both idealized and realistic, with strong visual appeal. "I felt as though the seed packets' design would be a big factor in whether or not people chose to use them," she said. Though Watson and her family enjoy gardening, the project gave her new perspective on the intricate nature of flowers. She learned "how meticulous it is to draw hundreds of tiny petals." She also learned what Keep Carter County Beautiful does in the community. That work was "really inspiring to me in a world where we often hear a lot of negative news about the environment," Watson said.
The class of 16 filled and labeled hundreds of packets, with students who plan to major in engineering in college serving as production managers. Students range from freshmen to seniors, but most are juniors. The students were excited to do the project because KCCB trusted them, giving them full control of the design, their teacher said. To Hayes, the project was a natural fit. The advanced-placement, college-level course focuses on Earth's health and resources. Planting flowers is part of that story. Students talk about the harmful effects of deforestation and the good that comes from pollinators. "Any time you add an organism that pulls carbon dioxide out of the atmosphere, it's an asset to the planet," Hayes said. Hayes had worked with Elizabethton High's Denise Hilton on the Bee Cause Project in 2018. She knew first-hand that the bee population has declined in recent years, and how growing more flowers can help. "Planting flowers helps the entire food web, the entire ecosystem," she said. "We are constantly analyzing ways that humans have affected our biosphere and seek to find solutions to the issues that the human race has caused to our planet," Hayes said.
The seed project isn't the only way Hayes has combined action with learning in the classroom. Advanced-placement EHS biology students traveled to Kingsport recently to meet and give feedback to fourth- and fifth-graders who created projects for St. Dominic School's science fair. "Elizabethton as a school has made a push to incorporate more project-based learning," Hayes said. "When an opportunity arises for us to give back and help out our home, I want to take the time to do it and instill that mindset into our future generations."
KCCB chairman Don Hlavaty is happy to have young people involved. "To have the Elizabethton students packaging and creating the design for the packaging of these seeds is a fantastic thing," he said. He added that young people also joined in a recent tree-planting event on the Tweetsie Trail. "We're hoping to get them involved in a lot of things in the future. Because our volunteer base seems to be getting older and older, any ideas young people have is just fantastic," he said.
Hlavaty would love to see flowers growing on bare patches of land across Elizabethton. "Getting flowers growing – imagine how much better it's going to look, coming into town," he said. KCCB will give away seeds to volunteers at the Great American Cleanup, from 10 a.m. to 2 p.m. on Saturday, April 15, at the Lions Field parking lot. Volunteers will remove litter along the Tweetsie Trail.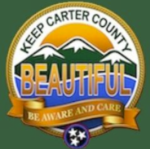 Keep Carter County Beautiful Business Spotlight at Northeast Community Credit Union on 19E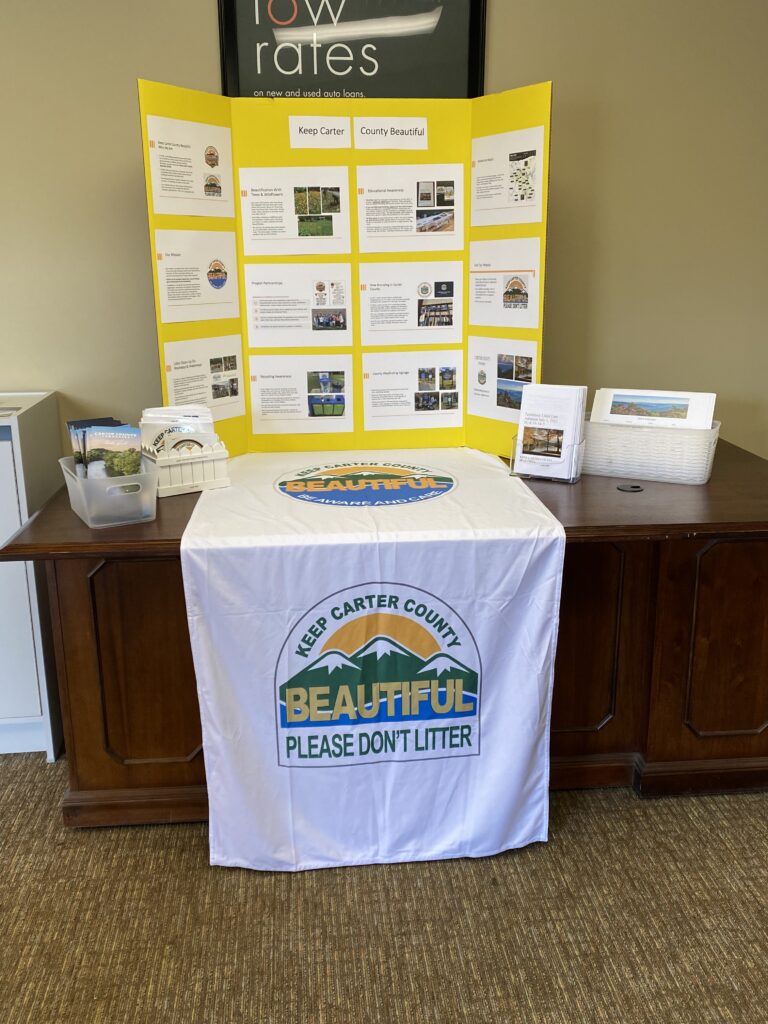 When you are out doing your banking at the Northeast Community Credit Union in Roan Mountain on Highway 19E stop at the Keep Carter County Beautiful display table and pick up some information. Calendars, Stickers, Tennessee Law Booklets, Carter County Chamber of Commerce brochures and wildflower seed packets designed and created by Elizabethton High School students are available.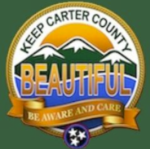 Volunteers from Keep Carter County Beautiful and Elizabethton Parks and Recreation partner to plant trees on the Tweetsie and Linear Trails
What a great turnout for the 2023 Tweetsie and Linear Trail tree planting. It looked like rain would force volunteers to postpone, but the skies cleared just hours before planting time. The ground was muddy and at the end so were the volunteers, but no one complained. Seventeen terrific volunteers worked hard removing rocks, backfilling holes and mulching 20 new trees. It was particularly nice to see some energetic young people and one very good doggie join us. It is always good to see families getting involved in their community.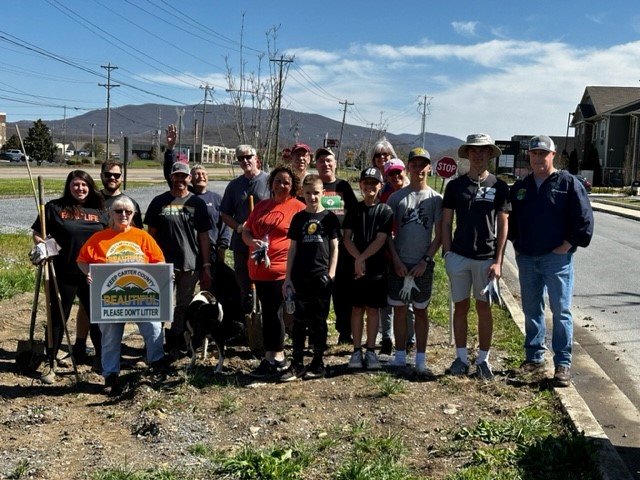 Keep Carter County Beautiful 2023 Adopt-A-Highway Spring Cleanup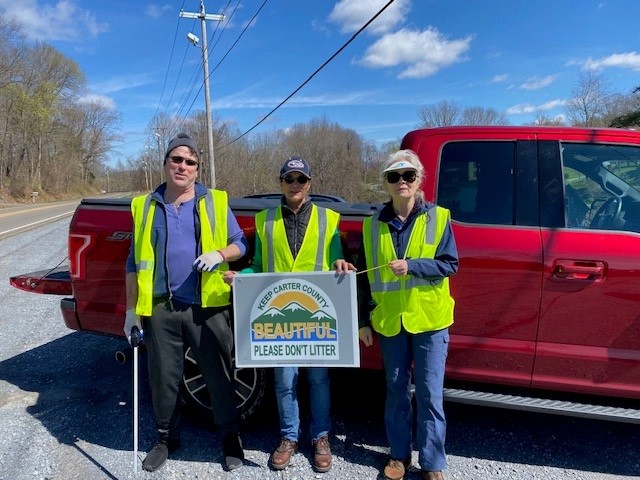 This year's spring cleanup of Milligan highway was a success even though many of our volunteers were out ill. Four healthy volunteers still managed to collect 12 large bags of trash, one tire, some pool parts and other various items. We were even able to extend our cleanup past Okolona Rd. Let's hope those littering the area learn to keep it clean. I hope our dedicated volunteers recover from their illness and are able to join us for our 2023 Tree Planting event on March 25, 2023.
Keep Carter County Beautiful, Elizabethton Parks and Recreation and Southern Off-Road Bicycle Association team up to install Hampton area Wayfinding signs
It was raining and chilly, but once the work started it was not that bad. Keep Carter County Beautiful, Elizabethton Parks and Recreation and Wes Bradley from the Southern Off-Road Bicycle Association worked through the rain and mud to erect new wayfinding signs at the Green Bridge Landing Park and Watershed Bike Trail trailhead in Hampton.
Thank you to the hearty volunteers for making our community beautiful. Visitors and residents can use the Wayfinding signs to take advantage of our great outdoor activities. While working at Green Bridge Landing some young fisherman from Appalachian State even stopped by asking for trash bags so they could pick up trash as they fished. We love visitors like these that leave our community cleaner than how they found it. Hope they enjoyed themselves and will tell others about our beautiful Carter County.
Carter County Sheriff's Department hit the road in January

Thank you, Sheriff Mike Fraley and the Carter County Sheriff's department. In January 2023 the Sheriff's Department supervised the collection of 23,740 lbs. of trash from our county roads. Thank you to the Tennessee Department of Transportation Litter Grant Program. This program really works! The cleanup covered 627 miles on 25 county roads and took 155.75-man hours. Thank you also to the trustees that worked to keep Carter County beautiful. The crews collected 2315 lbs. of aluminum cans, 4635 lbs. of glass, 2190 lbs. of paper, and 14600 lbs. of other trash. Just another reason to be proud of our community. If you see littering/dumping or uncovered loads, please report it. Together the community can solve this problem.
In recent weeks we noticed an increase in the citations and prosecutions for littering/dumping violations. Hopefully the offenders will start getting the message that we do not tolerate littering/dumping in Carter County.
Please stop littering our roads and waterways!
Keep Carter County Beautiful Information Table at 2023 Seed Swap Event
Hope you had an opportunity to attend the 2023 Seed Swap Event in Johnson City. The event was a great success, and we hope to see it again next year. Keep Carter County Beautiful sponsored a table, handed out seeds, provided valuable information on gardening, community beautification and composting. A special thank you to our very own Master Gardner Ed Basconi for getting us involved in this event. Thank you also to Ed and his wife Mary Alice for creating the great seed packets and manning the table. Hope everyone plans to plant a wonderful garden this year. Flower and vegetable gardens provide food for Mother Nature's pollinators. Without natures pollinators many of our fruits and vegetables would be impossible to grow. Keep Carter County Beautiful provided four leaf and vegetation composting kits that were awarded as door prizes. Hope the lucky winners put them to good use. Composted vegetation makes great mulch and keeps the waste vegetation out of our landfill.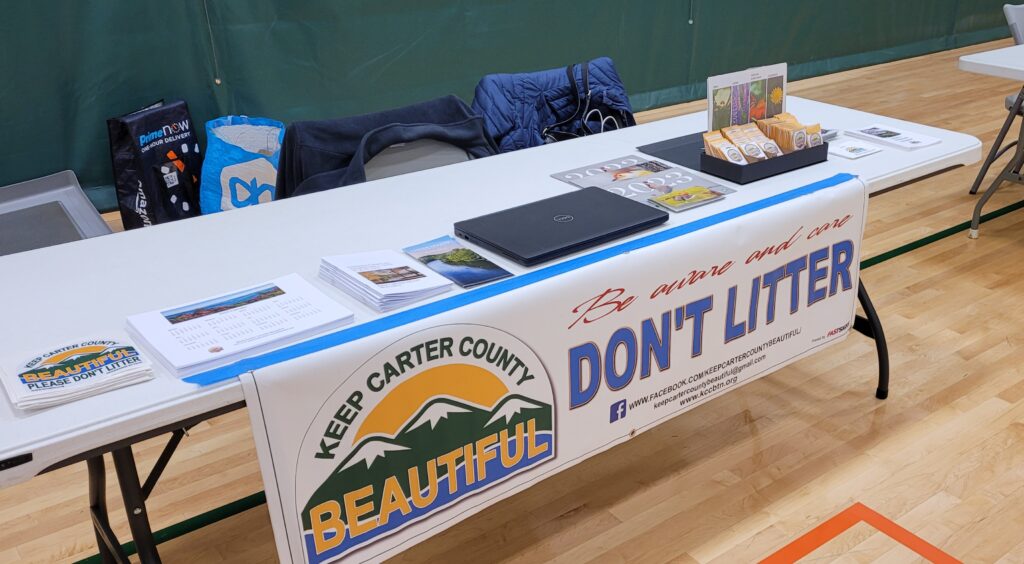 Keep Carter County Beautiful, Keep the Tennessee River Beautiful and Keep Jonesborough Beautiful partnered on a very successful Watauga Lake cleanup
Twentynine terrific volunteers showed up at the Little Milligan Boat Ramp on Watauga Lake and removed 5500 lbs. of trash. This successful cleanup was part of the 3rd Annual Cherokee National Forest River Cleanup series. Thank you to the volunteers for making a difference and keeping our lakes and rivers beautiful. Thank you to Kathleen Gibi and Keep the Tennessee River Beautiful for making this event possible. Thank you to the sponsors of this event. Without your support we could not be successful. A special thank you to Benny Lyons Carter County's Solid Waste Director for providing and picking up the dumpster. Without it we would have no means of disposing of the trash.

Please visit the "Events" page of this website for updates on upcoming events. Our Volunteers are making Northeast Tennessee a beautiful place to live, visit and work.
Please stop and view this very important video from the Tennessee Clean Act. I urge you to act now!
Please do not ignore this issue. Litter and trash impacts all of our lives and only we can fix it. Keep Carter County Beautiful is not a political organization, but I urge you to call, write or email your local and state representatives. Act now to save our beautiful state. You can click on the logo below and the website will help you with your message.

Think Litter is a new problem? Based on this 1976 Tennessee Public Service Announcement the problem has been around for a long time. Let's not pass this problem on to the next generation.
Keep Carter County Beautiful marched in the 2022 Elizabethton Christmas Parade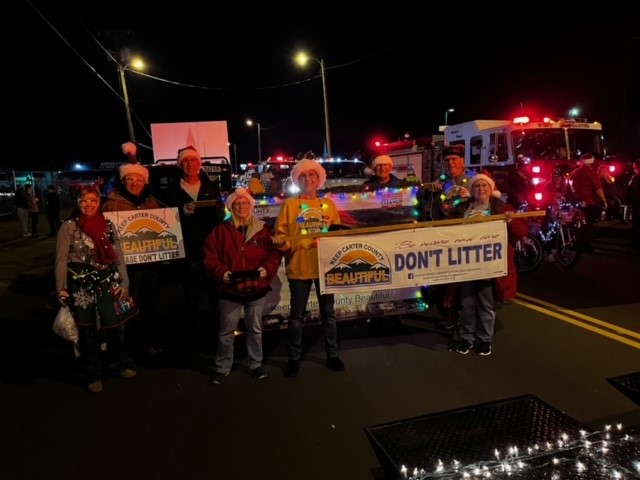 Hope you got a chance to attend the 2022 Elizabethton Christmas parade. The rain held off almost until the end. The Keep Carter County Board and family members had a lot of fun and marched, handing out candy and spreading the message "Do not litter". Have not seen the numbers yet, but the turnout was huge. Check out the remaining festivities this holiday season. Elizabethton always puts on a good show for the holidays.
From all of us at Keep Carter County Beautiful have a safe and enjoyable holiday season. Hope to see everyone at one of our 2023 events. Stay safe and have a Merry Christmas.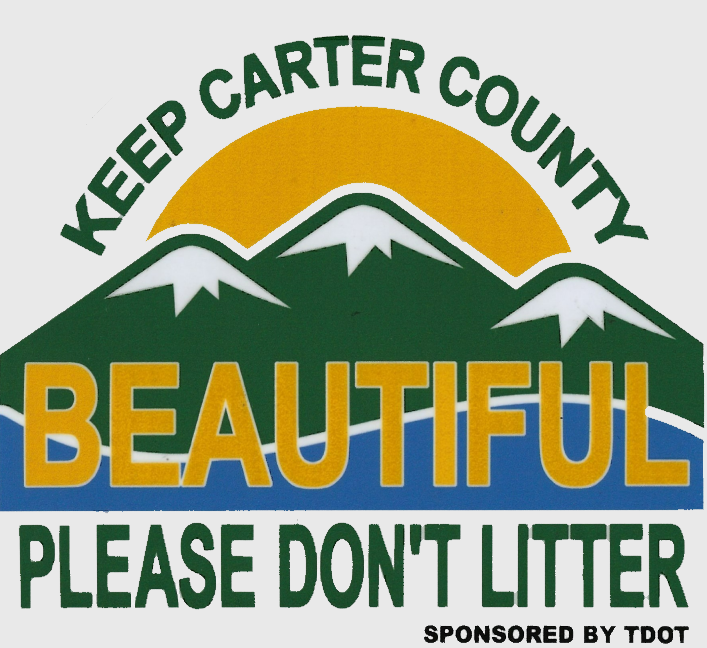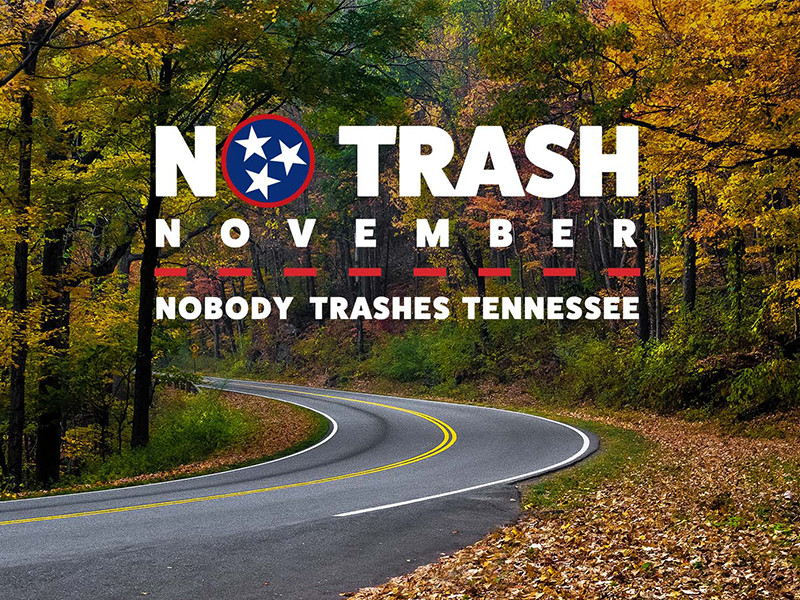 Keep Carter County Beautiful – Tennessee Department of Transportation "No Trash November 2022"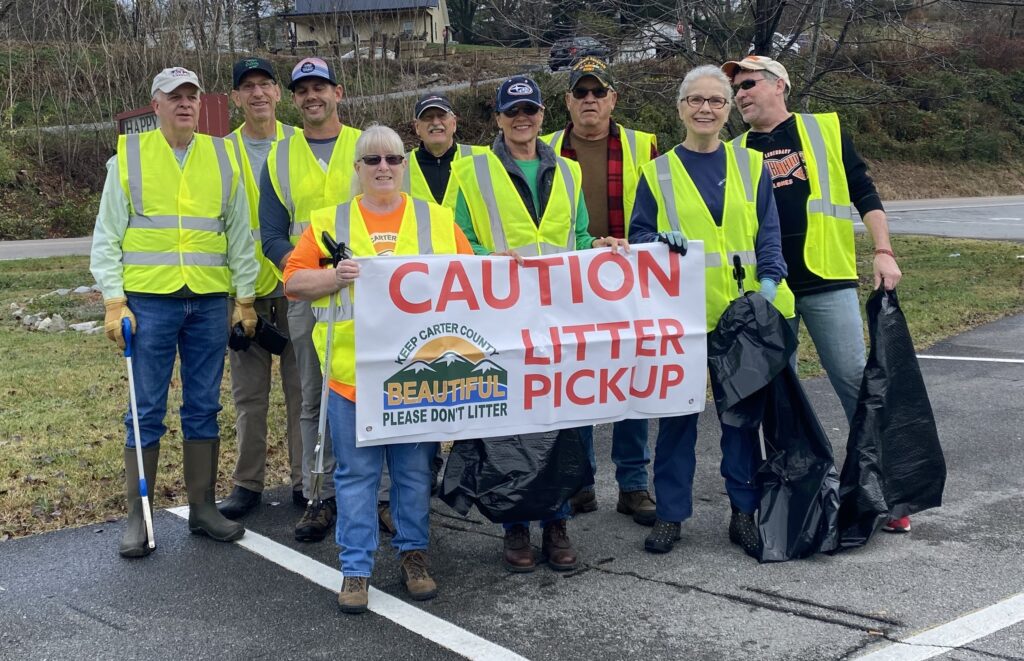 Keep Carter County Beautiful, Roan Mountain Community and Americorps work together to install New Wayfinding Signs in Roan Mountain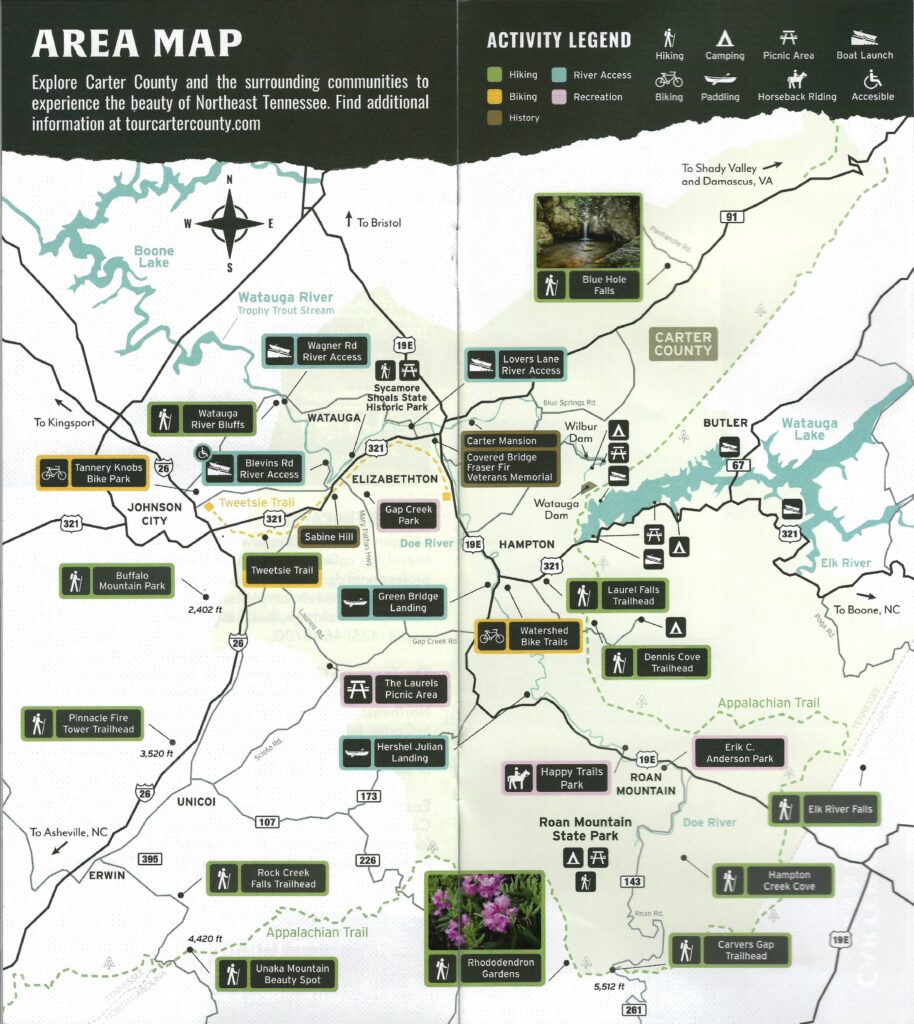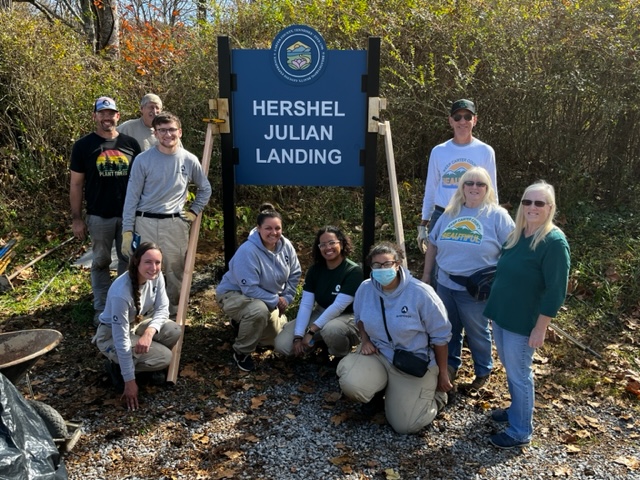 Thank you to a special group of people with Americorps, the Roan Mountain Community and the Keep Carter County Beautiful (KCCB) Board Members for helping on this project. Last year KCCB delivered Wayfinding signs to Carter County. The signs were created to assist residents and visitors with information about some of our natural resources, attractions and parks. Earlier this year the Roan Mountain Community held a park dedication ceremony honoring long standing community leader Erik C. Anderson. The community installed a Wayfinding map and a sign naming the park Erik C. Anderson Park.
On Saturday October 29, 2022, eleven volunteers arrived in Roan Mountain to install additional wayfinding signs at Happy Trails Park and Hershel Julian Landing on the Doe River. In the coming months additional wayfinding signs will be installed to assist residents and visitors with enjoying all Carter County has to offer.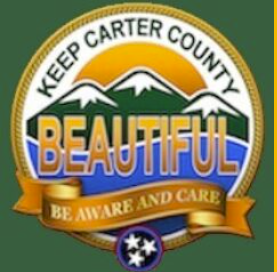 Keep Carter County Beautiful held a successful cleanup of Highway 321 on Saturday October 15, 2022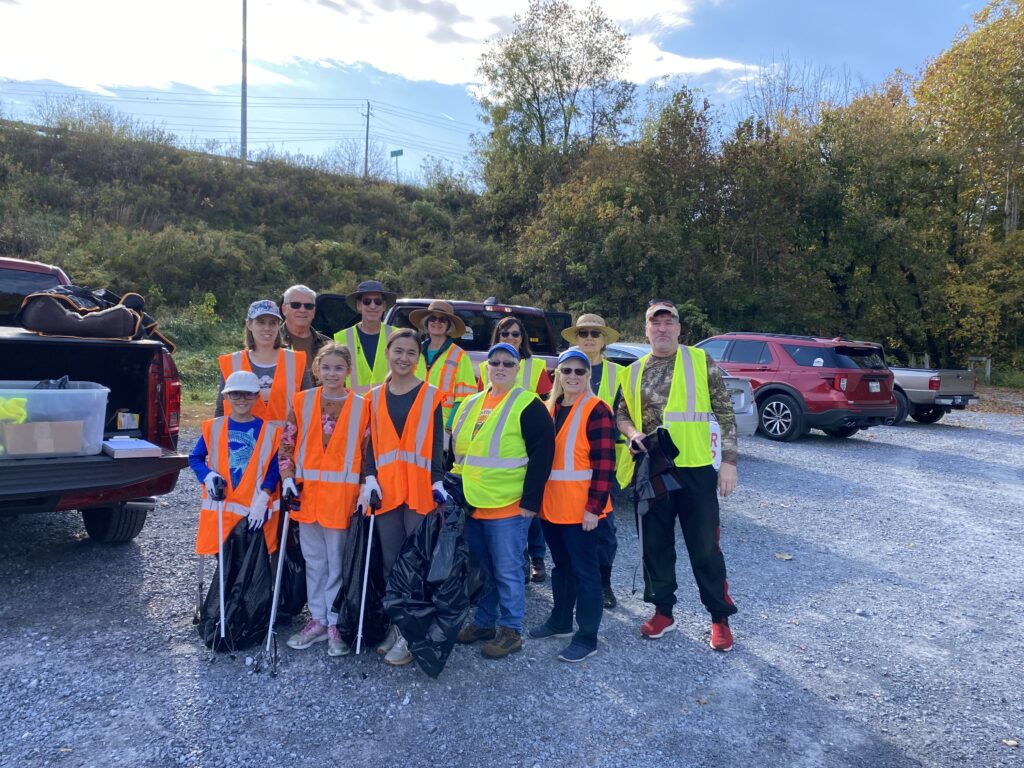 I am always a little anxious when KCCB hosts a cleanup event. Will the weather cooperate, will enough volunteers show up? On Saturday, October 15, 2022, Keep Carter County Beautiful held its second cleanup event of the year on Highway 321 between Elizabethton and Johnson City. This is a three mile stretch of highway that connects two wonderful counties and cities. The road is heavily traveled by citizens, tourists and workers, unfortunately this means lots of litter and trash.
We had 13 energetic volunteers show up for this event and they cleaned up just under 2 miles of highway. They removed 21 bags of trash, several pieces of cardboard, paint cans, plastic bins, and 5-gallon buckets. We had three great young volunteers show up to help. A special thank you to them from all of us. We hope to see you again and bring your friends along.
Unfortunately, a lot of trash remains out there. If we work as a community educating people about the damage being done, fining those who choose to ignore the law and cleaning up the existing problem areas we can fix this. Everyone who travels our Tennessee Roads should be aware that on of July 1, 2022, the Tennessee Legislature made littering our highways a $500 fine.
Please stop littering and save yourself some grief and money!

Elizabethton Covered Bridge Days were fantastic!
Thank you Mike Mains and the Elizabethton Parks and Recreation Department for a great 2022 Covered Bridge Days. Those of you who who missed this years festival really missed something special. The venues were great, the children's bounce houses and foam party were great, the bands were great, the food was great, the crafts were great, and fireworks are always great. Mike Mains and the Parks and Recreation employees out did themselves again. The attendance this year was spectacular. Who says "NO" to free concerts and activities at one of the best venues around, not me. Parks and Recreation employees were spectacular during the entire event. Thank you to all of you.
Keep Carter County Beautiful shared one of the Parks and Recreation tents at the entrance to the park. It was a perfect location to meet people and talk about how we are keeping Carter County beautiful. Lisa Vezzosi (KCCB Secretary), Mary Hlavaty (KCCB Volunteer), and Ed Basconi (KCCB Board member) handed out swag, provided information, and took note of citizens concerns about dumping in Carter County. Don Hlavaty (KCCB Chair) and Mary Hlavaty (KCCB Volunteer) made several rounds picking up trash, making sure the venue was clean and neat all day. KCCB also furnished 9 Recycle bins. Thank you to all those who chose to recycle instead of throw away the plastic bottles and aluminum cans. Every item not thrown in the land fill helps.
If you missed the event this year, make sure you do not miss next years. Mike and the Parks and Recreation Department worked tirelessly and this event is one you should experience. See you at the Covered Bridge next year.

Keep Carter County Beautiful
Another successful cleanup of Milligan Highway
Fourteen wonderful volunteers spent a couple of hours Saturday mourning picking up litter and trash from Milligan Highway. Keep Carter County Beautiful adopted Milligan Highway from HWY 321 to Okolona Road several years ago and is working hard to maintain it as an example of how our roads can appear. This cleanup saw support from new volunteers and volunteers that know this stretch of road well. Thank you to the volunteers for making Carter County a beautiful place to live, work, and visit. Thank you to the Elizabethton Police Department for checking on us and keeping the road safe during the cleanup. Thank you to the Tennessee Department of Transportation for their support and quick pickup of the collected debris. We removed 14 large bags of trash, a matress, plywood, TV, and construction debris. This section of road looks so much better, thanks to the efforts of all involved.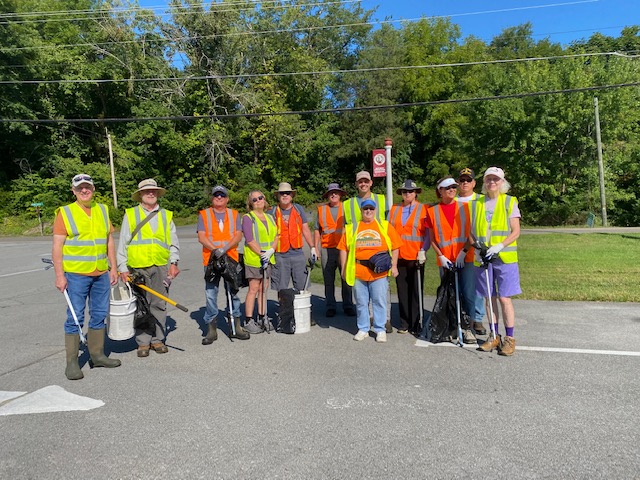 Keep Carter County Beautiful provides recycle bins for Parks and Recreation Events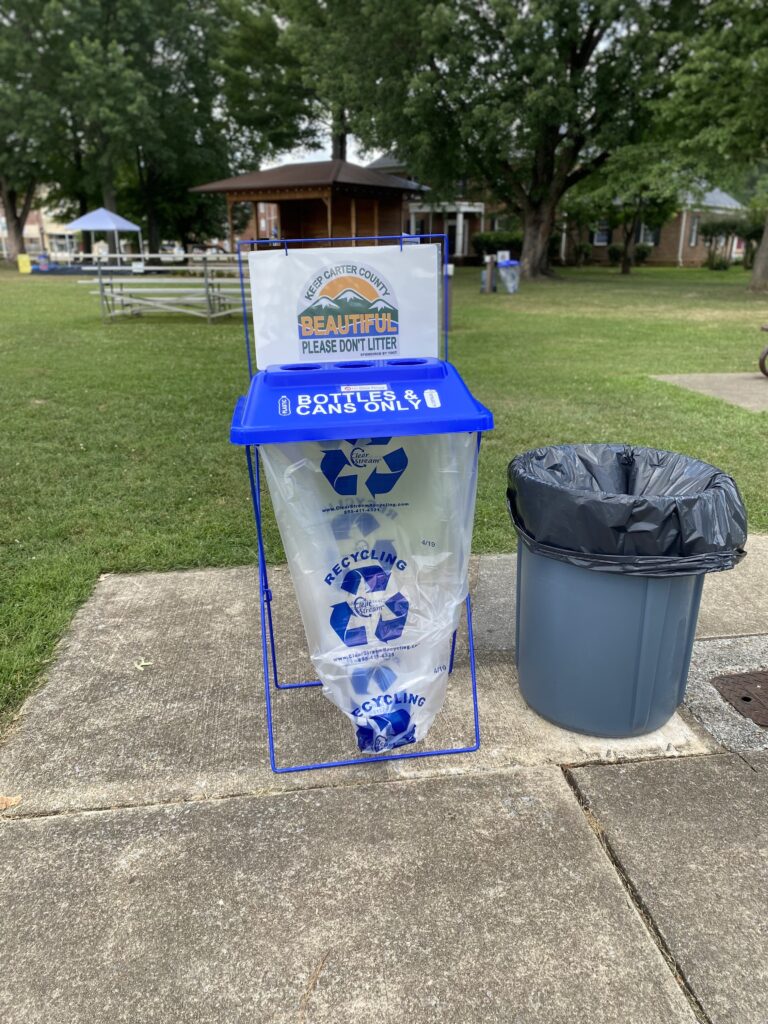 If you attended any of the great Elizabethton Parks and Recreation Events this summer at the Covered Bridge Park, you may have noticed something new. KCCB volunteers have been handing out free swag and providing conservation information. They also have been setting up recycle bins and collecting them afterward.
Keep in mind the recycle bins are for Aluminum Cans and Plastic bottles. You can also place those plastics marked type 1 and 2 in the bins. You should not be placing glass, styrofoam cups, trash or food waste in the recycle bins. Please help us recycle responsibly.
Keep Carter County Beautiful Wild Flower Plots come to life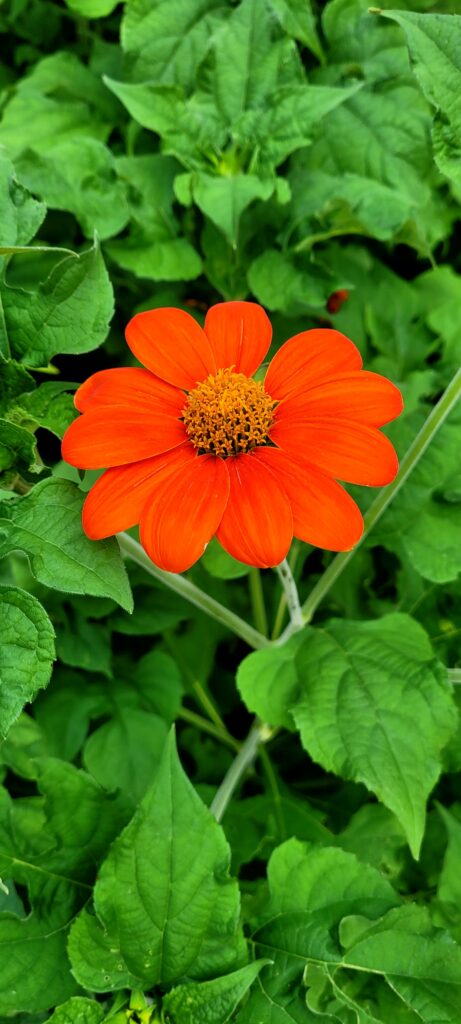 Last year Ed Basconi (KCCB Board Member) had an idea to plant wild flowers along the Tweetsie and Linear Trails in Carter County. His idea was to provide some beauty to the residents using the trails and also provide a space for natures pollinators. With the help of Mike Mains and the Elizabethton Parks and Recreation employees, KCCB Board members and thier families, the idea came to life!
Last year was so successful that we had to do it again. In May of 2022, Mike Mains and the Parks and Recreation employees plowed up several plots along the Tweetsie and Linear Trails. The KCCB Board and their families came in behind them and raked the plots and planted the seeds. Then all we had to do is wait. We got the right amount of rain and sunshine and the flowers did their part. Once again you can travel the Tweetsie and Linear Trails and see the beauty. The bees, butterflies and birds love them too!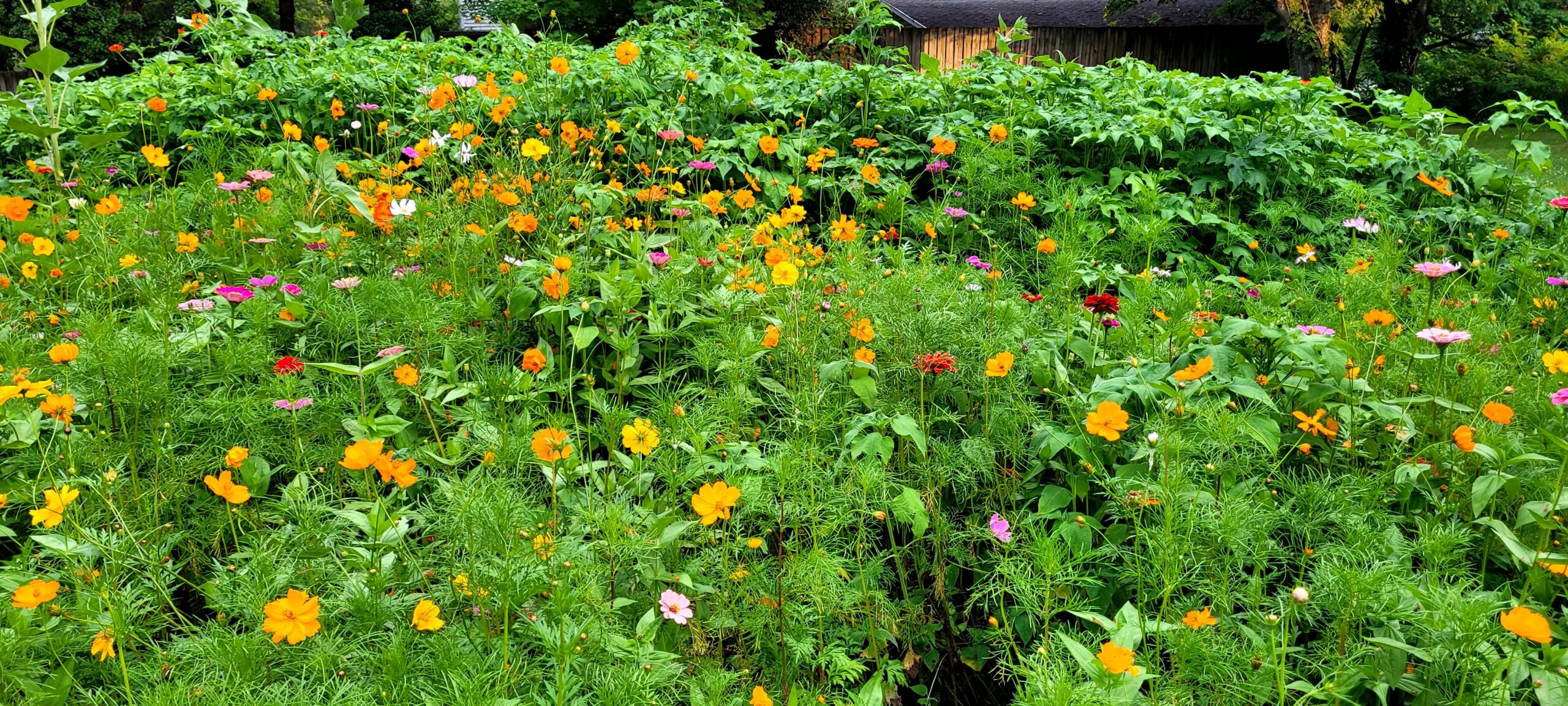 Keep Carter County Beautiful Blevins Road Litter Cleanup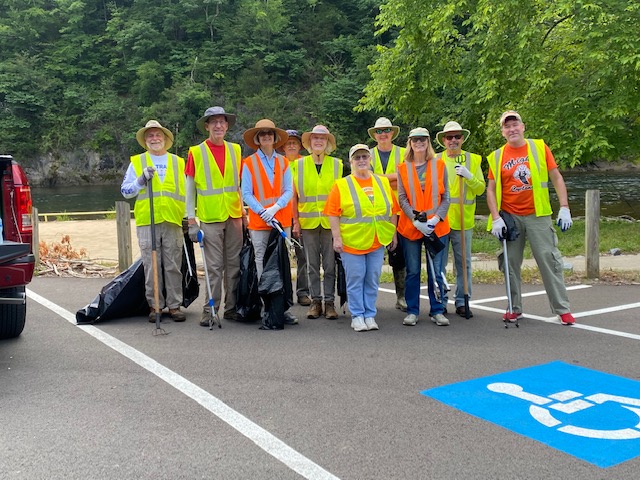 Wow!! If you did not get a chance to join us at the Blevins Road Cleanup you missed the most enjoyable cleanup I have been part of. Eleven volunteers showed up on a gorgeous summer morning. The weather was great! The scenery was great! The pace was leisurely! and we removed 15 bags of litter and an office chair from the sides of the road and river bank. Not sure what the office chair was doing out there, I know they can't fish? We had one resident offer to buy us lunch as encouragement to come back next year, but I let him know we are all volunteer and would come back anyway. We got instant gratitude when Commissioner Charlie Von Cannon stopped on his way home and thanked the crew for the great work we do.
Keep Carter County Beautiful Highway 321 Litter Cleanup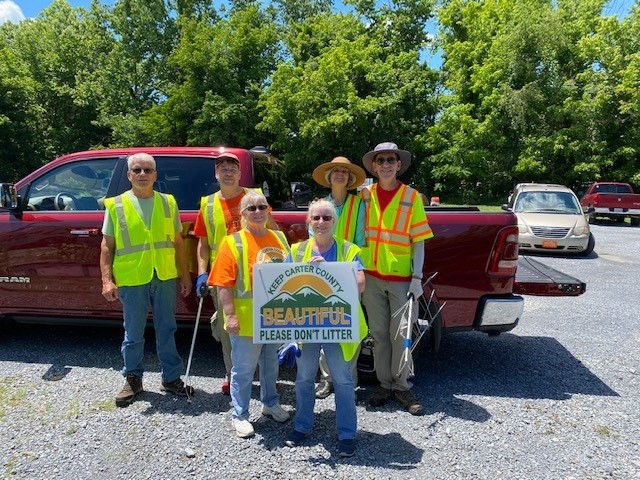 What a beautiful day! Ten volunteers came out and got some exercise on one of the best weather days of the year. The volunteers removed 18 large bags of trash, a tire tread, sheet metal and cardboard. Jill, Jim and Kim, I am sorry I missed you for the picture, thank you for your hard work supporting our community.
I want to express my sincere thanks to all the volunteers that show up for KCCB events. You are truly making a difference. If you have not volunteered in a while, or have never volunteered, I hope you will come out and support KCCB at our next event.
Please stop throwing trash from vehicles and cover your load. It is not just the right thing to do it is the law.
Keep Carter County Beautiful and Elizabethton Parks and Recreation Wild Flower planting on the Linear and Tweetsie Trail
Keep Carter County Beautiful and Elizabethton Parks and Recreation are planting wild flowers to attract humming birds, pollinators and people to our beautiful trails. In doing so they are making our Linear and Tweetsie Trails a great place to take a walk, run or bike ride. Hope to see you enjoying the flowers on the trails this summer. Have fun!
Many thanks to Mike Mains and the hard working people at Elizabethton Parks and Recreation. Mike's crew got their rototiller out and plowed up several areas along the Linear and Tweetsie Trails. Thank you to the volunteers who came out on a Thursday and Friday night and stayed until dark raking out the plots and planting wild flowers. I cannot wait until the flowers start blooming again this year.
Keep Carter County Beautiful – TDOT Adopt-A-Highway Spring cleanup of Milligan Highway was a great success!!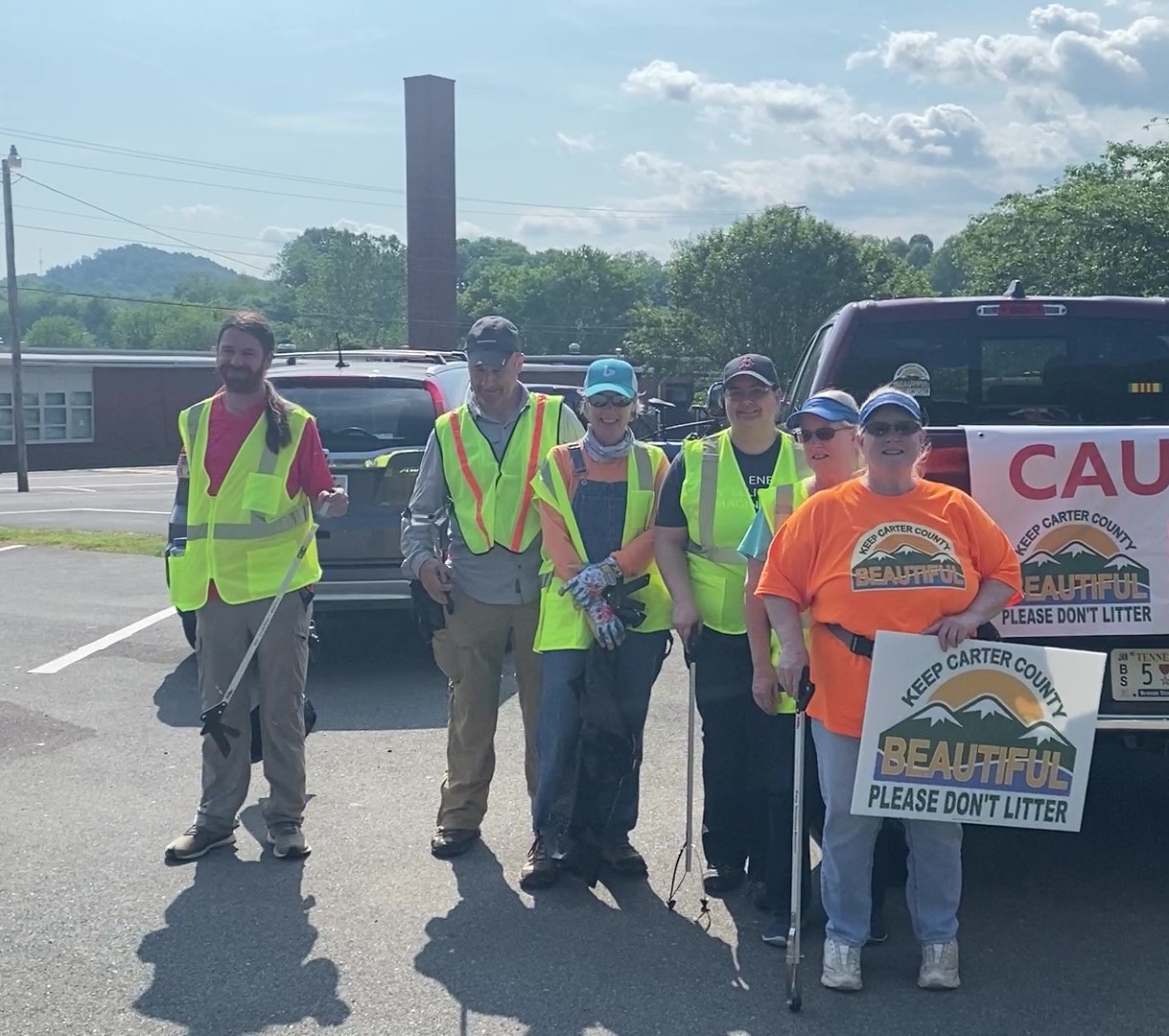 It was hot out there for a Saturday in May. Fourteen volunteers came out and got some excercise and picked up 13 bags of trash, one tire, some sheet metal, and styrofoam. Thank you to the new volunteers who helped and thank you again to the volunteers that show up time after time. Without our great volunteers we could not have the positive impact we are having. If it is not my imagination Milligan Highway seems to be staying cleaner. Lets hope our message is getting out there. A special thanks to Chief Shaw of the Elizabethton Police Department and the Officer that made sure our cleanup was safe again this year. Thank you to Mayor Patty Woodby for her continued support. KCCB is better because of the support of our community leaders. Thank you to TDOT for picking up the collected trash, great to have the help.
Keep Carter County Beautiful delivers Wayfinding Signs to Carter County
On May 10th, Keep Carter County Beautiful delivered Wayfinding signs to the Carter County Road Commission and Roan Mountain Parks. The signs were designed and manufactured with a grant provided to Carter County. The signs will enhance tourism and assist in directional wayfinding in our County. The signs identify special interest locations, parks, cities, recreation activities, natural attractions, and provide informational messages.
Keep Carter County Beautiful Vice-President Ross Garland spearheaded the grant and facilitated the creation of the signs. Ross worked with Seth Hice (Elizabethton Carter County Chamber of Commerce Tourism) to design the location maps and identify many of the County's parks, recreational features, and points of interest. The signs identify places like the Tweetsie Trail, Blue Hole Falls, Gap Creek Park, Elizabethton Covered Bridge, Hampton Watershed Trails, Hersel Julian Landing, Green Bridge Landing, and the Eric C. Anderson Community Park. Six signs show the entire county with all the areas of interest marked. Additionally, signage for hiking trails, fishing, rafting, and litter prevention were created.
The signs are to be placed throughout Carter County in the coming months. Residents and visitors will soon be able to use these directional signs to identify our county's treasures.
Thank you Ross for all your hard work, the signs are beautiful and will be helpful to all who live in and visit our beautiful Carter County. Seth Hice of the Elizabethton Carter County Chamber of Commerce was instrumental in designing the signs. Thank you Seth.
Keep Carter County Beautiful and Keep America Beautiful Great American Tweetsie Trail Earth Day Cleanup
The weather was so good that only the most dedicated volunteers would show up on the Tweetsie Trail to pickup trash. Nine wonderful volunteers removed 18 large bags of trash while everyone around them enjoyed biking, walking or running. Please treat the Tweetsie Trail and all those that use it with respect and remove your litter when you are done. Help make the Tweetsie enjoyable for all. Thank you to these terrific volunteers.
Keep Carter County Beautiful – Elizabethton Parks & Recreation Spring Tree Planting Event
The vision is to plant trees along the Tweetsie Trail from one end of Elizabethton to the other. Trees that will provide beautiful blossoms in Spring, shade in Summer and colorful foliage in Fall. To make this vision a reality you need leadership, resources, and energy. For the past 4 years Ed Jordan of Keep Carter County Beautiful and Mike Mains of Elizabethton Parks and Recreation have been providing the leadership while the Elizabethton City Council and Carter County Commission have been providing the resources. The people of Northeast Tennessee have been providing the energy and labor.
It started with four trees in 2019. Then fifteen more were planted in 2020. How do you top that? You plant thirty-four trees in 2021. This year (2022) Keep Carter County Beautiful and Elizabethton Parks and Recreation asked for volunteers to help plant thirty trees. Nineteen energetic volunteers came out and spent their Saturday morning getting all thirty trees planted and mulched. The volunteers had to remove numerous rocks from the base of the trees, backfill the holes and spread the mulch. Now everyone who walks, runs, or bikes the Tweetsie in Elizabethton will be able to watch the trees grow. Our hope is that ten years from now the trees planted will bring visitors from all around the country.
Thank you to this year's volunteers and all past and future volunteers that are working to make this vision a reality. Thank you to Ed Jordan and Mike Mains for their leadership and thank you to the Carter County Commissioners and Elizabethton City Council for the resources required to make this happen. If you recognize someone in the pictures below, tell them thank you and maybe think about volunteering next year. You will be able to see your hard work spring to life each year and have bragging rights with everyone you know.
Love when the whole community unites to help
A special thank you to the Elizabethton Fire Department for keeping the new trees planted on the Tweetsie Trail watered until Mother Nature can take over. A special thank you to Mike Mains, Director of Parks and Recreation, and his team for all the help they provide with KCCB's projects. We could not do this without their help.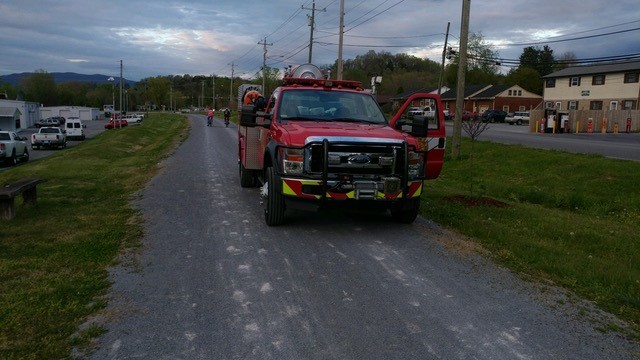 Keep Carter County Beautiful and Keep the Tennessee River Beautiful cleanup of Watauga Lake a great success!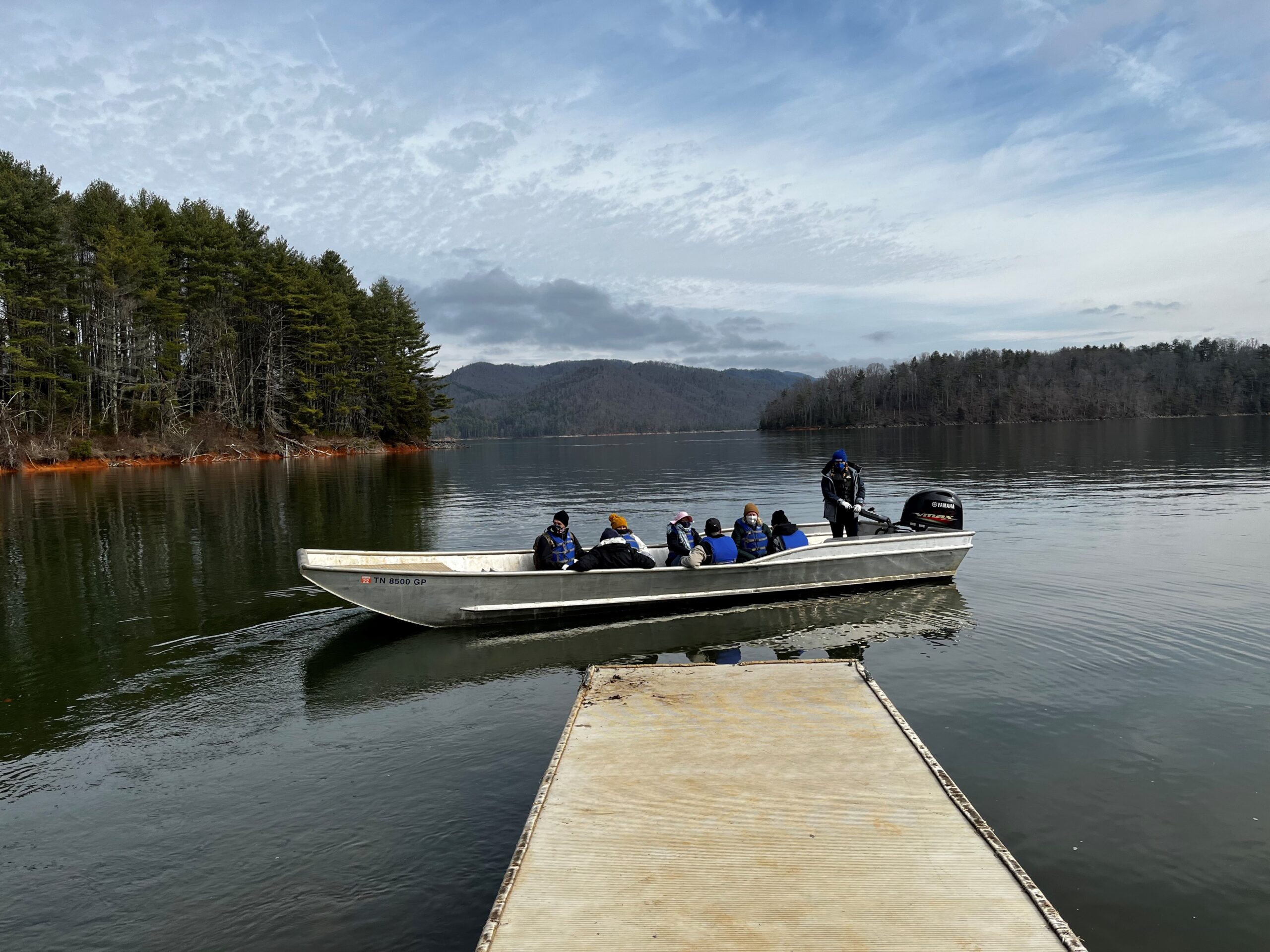 When Kathleen Gibi, Executive Director of Keep the Tennessee River Beautiful organized the 2nd Annual Four-Part Cherokee National Forest River Cleanup Series, she knew she could count on assistance from Keep Carter County Beautiful. Eleven hard working volunteers showed up, put on life jackets and water boots, and went to work. The volunteers spent their Saturday removing trash from five different sites on Watauga Lake including the Little Milligan Boat ramp and four areas of rugged shoreline. One of the volunteers joining the cleanup was Ashley Cavender of Keep Jonesborough Beautiful. Ashley is working hard to keep Jonesborough a great place to live and visit.
When quitting time came, Kathleen ferried the exhausted volunteers back to the boat ramp. She and Isaac Christman then returned to the cleanup sites and loaded the trash into the boat and ferried it back to the dumpster. Several hundred pounds of Styrofoam dock floats, 23 tires (21 on rims) and 50+ bags of trash were removed by this fantastic volunteer crew. The dumpster was so full the tires and two Styrofoam floats that weighed approximately 300 lbs. each would not fit.
A special thanks to Benny Lyons, Carter Counties Solid Waste Manger for supplying the dumpster. Without a method to remove the trash collected, Keep Carter County Beautiful's events would not be as successful as they are. When Benny found out the tires and Styrofoam would not fit in the dumpster, he came to the rescue again, the tires and Styrofoam were removed along with the full dumpster.
I don't know what motivates volunteers like these, but I hope to see them again at community cleanup events throughout the year. Please keep an eye out for future events by visiting:
Keep Carter County Beautiful's Adopt-A-Highway Milligan Highway Winter Cleanup
On Saturday, February 12, 2022, after a two-week delay because of snow, Keep Carter County Beautiful volunteers got together to remove the litter and trash deposited over the winter on our adopted Milligan Highway. Sixteen volunteers displayed their commitment to making Carter County a beautiful place to work and live. Mayor Woodby, Commissioners Ginger Holdren and Ross Garland, Elizabethton City Councilman Mike Simerly, Sheriff candidate Thomas Smith, and one very good puppy dog worked side by side with volunteers picking up trash.
Thirty-One bags of trash and a tire were removed from the shoulder and ravines along the roadway from Highway 321 to Okolona Road. Hard to believe that this same section of road was just cleaned up in November 2021. To all the volunteers that worked this event, thank you. I know many in the community appreciate your hard work and dedication. Thank you TDOT for the supplies, support and picking up the bagged trash. A special thank you to Elizabethton Police Chief Shaw for providing extra patrols to make sure everyone was safe. I would also like to thank the neighbor that got us energized with candy. Treats always makes the work sweeter. This was a TDOT Adopt-A-Highway event.
I would like to appeal to everyone who drives our county roads, please do not throw trash out your window. If we dispose of trash properly, there would be no need to have this cleanup 3-4 times per year. Working together we can solve this littering problem.
Please don't litter, you are damaging the entire community.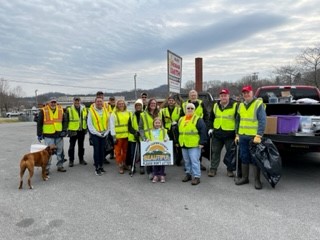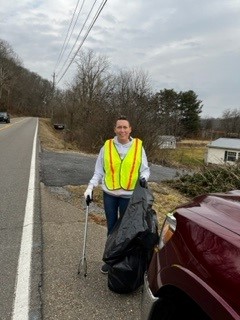 Covered Load Tarp Give-A-Way at Carter County Landfill – Great support from our Community Leaders. The community working to make things better!
Were you aware that Tennessee State Law requires: "Any motor vehicle that transports litter or any material likely to fall or be blown off onto the highways, shall be required to have such material either in an enclosed space or fully covered by a tarpaulin. "
One of the reasons Carter County Tennessee continues to be a beautiful place to live, and work is the support of our Community Leaders. Community leaders came together at a Tarp Give-A-Way event at the Carter County Landfill. The event included information on Tennessee State Law for transporting litter and debris and a free tarp.
Carter County Mayor Patty Woodby, Carter County Commissioner Ross Garland, Keep Tennessee Beautiful Director Missy Marshall, Keep Carter County Beautiful Ed Jordan, Carter County Sheriff Dexter Lunceford, State Trooper Rick Garrison, City of Elizabethton Chief of Police Jason Shaw and Carter County Solid Waste Director Benny Lyons were in attendance to support the event.